WATCH AND HELP PROMOTE THE FILM 'DELIKADO'
In DELIKADO, three environmental defenders are tested like never before in their battle to save their home, Palawan, an island paradise in the Philippines from the illegal destruction of its forests, fisheries, and mountains.
The film will be available to stream across the US May 20-26. Details on the festival website here.

On Promotion for the film: 
Help us promote DELIKADO, with this DELIKADO Social media kit.
Additional stills can be found here.
External Discount codes: 
For sharing on social media, you can use the following code with your social posts: (Note, this code is good for any film in the HRWFF:)Get a $7 digital ticket to stream the films at the @hrwfilmfestival by entering code: RESIST2022 at checkout. Free tickets are available first-come first-served for any member of the public who needs them by emailing filmticket@hrw.org 
+ Note we have 200 free student tickets for university students using the code INSPIRE22 at checkout to any digital film at the festival. Please feel free to share on social media!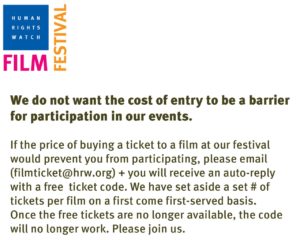 Folks can request a free ticket by following info below: (If you share this via social media, please use the graphic to add to your social posts as a carousel or thread.)

We don't want the cost of a ticket to be a barrier for participation. Just email filmticket@hrw.org and free ticket codes will be sent to you. (See graphic attached which you can also add as a second image in a carousel post.)
INTERNAL ONLY
ALLIED members can have internal tickets for seeing the film online. Just use the code ALLIES for free digital tickets to the film. (Up to 25 uses of the code.) You can also have some free tickets to give away to your followers (or use by staff) for each of the in-person screenings for DELIKADO. Just let me know if interested and we can set everything up. You will need to email me the names of the ticket holders for these tickets before May 19, 2022.